For The Planet
As the world's second most polluting industry, it's no secret fashion isn't sustainable. While we understand we're a part of the problem, we're committed to being part of the solution, too. From sourcing materials made from nature to recycling shoes that aren't - join us on our journey to keep our world clean, carefree and living.
Balancing Purpose & Profit
We Are Australia's First B Corp Certified Footwear Label!
We did it. B Corps are businesses that stand by the highest social and environmental standards for people and the planet. Values we live by, and we now have the stamp to prove it.
Managed by B Lab, a non-profit organisation that advocates using business as a force of good. B Corps don't only measure success in financial terms, but through social and environmental impact, too.
From our efforts to reduce their global footprint to upcycling leather offcuts into Dog Collars & Leads, our journey has just begun. We are on track to always seeking sustainable alternatives and questioning our processes.
GREENFLEET:

Reducing Our Carbon Footprint
We're working hard to reduce the emissions we cause in the manufacture and distribution of the shoes you love. We understand that on its own, carbon offsetting doesn't prevent global warming, but has a large part to play in the overall approach to carbon management. In 2020, we partnered with Greenfleet, committing $50,000 to plant thousands of native species and offset over 3,300 tonnes of carbon!
Greenfleet is an Australian not-for-profit organisation that plants biodiverse native forests that are protected for 100 years. These forests capture carbon emissions to help protect our climate, improve soil and water quality and provide habitat for native wildlife.
Our partnership has enabled the regeneration of biodiverse forests across Australia and New Zealand, truth is, we need to do a lot more and we need your help.
GREENFLEET:
Let's Go Carbon Neutral
As part of our fight to save our planet, we are encouraging our community to follow in our footsteps
Offset your carbon emissions for an entire year through Greenfleet's CarbonCover 365 program and we'll take $65 off your next full-price Bared purchase.
That's right, for just $1 a day you can help save our planet. Oh, and save on shoes too.
The Portugal Edit
Hand-crafted and mindfully constructed, we're exploring new ways to create our footwear.
With years of experience in crafting traditional men's footwear, we've made the move to Portugal. Using premium materials, sustainable practices and timeless techniques, it's time to put your best foot forward.
Each pair is crafted from vegetable-tanned Gold Rated leather, Blake stitched and fitted with our (seriously sustainable!) sugarcane footbed.
It is our mission to create quality pieces you'll wear for years, but it's even more important to improve our processes to be better for our planet. We're proud to say, we've done both.
SHOE RECYCLING:
Save Our Soles
In 2019, we made it our mission to ensure none of our shoes reach landfill. We teamed up with John Elliott from Save Our Soles, a Melbourne-based company that turns tyres and shoes into rubber mats. An initiative we're proud to be a part of, it gets even better. The rubber mats are leased, and once they're used, they make their way back to John to be recycled and repurposed again.
Since then, you've helped us recycle (a whopping!) 8,120 shoes.
RECYCLE WITH US:
We're recycling all our pre-loved shoes and encourage you to do the same – drop off your old favourites (Bared or not!), anytime at any of our stores.

View Store Locations
OUR SUSTAINABILITY INITIATIVES:

B.plantfoam™
The same support you know and love, but better for the planet. Our new B.plantfoam™ footbed is made from 72% plant-based materials and creates three to six times less Co2 emissions than standard petroleum-based footbeds. Your every step will feel even lighter.

Sugarcane Footbed
Good for you, good for our planet - this footbed is made from (seriously sustainable!) sugarcane. Sourced from Brazil, this fully renewable resource grows quickly, relies on rainwater to thrive (not irrigation) and removes carbon from the atmosphere in the process.

Recycled Plastic Bottles
Certified by the Global Recycling Standard (GRS), we've introduced recycled plastic bottles into our Bared range. Otherwise known as, rPET, it is manufactured by shredding used bottles into small flakes, the flakes are melted into pellets, and stretched into a thread.
By using rPET in our sneaker laces and mesh fabrics, we've prevented 171,260 plastic bottles (and counting!) from entering our ocean.

Natural Materials
We're constantly striving to incorporate more natural, renewable materials into our shoes. We're increasing the percentage of rubber in all our sole units and excited to introduce sugarcane into our footbeds.
We understand that this is an ongoing journey, and we're committed to exploring new sustainable components to help reduce our impact.

Dog Collars & Leads
As a growing company, we're incredibly conscious about the waste we create and make it our mission to be part of the solution, not the problem. In 2021, we've transformed our leather off-cuts into dog collars! From our cutting room floor to the pet you adore, meet the 'Dog Collars' and 'Dog Leads'!
We're proud to say, so far we've saved and repurposed 51.81kgs of leather offcuts.

Natural Rubber Sandals
Never before seen, we'd like you to meet the Sanderlings! A minimalistic, two-strap style crafted from natural rubber, you're looking at our very first vegan shoe.
Bundled in their very own beach pouch made from recycled plastic, each pouch saves eight recycled plastic bottles from entering our ocean. That's a whole lot of eco-action.

Compostable Satchels
Our postage bags are compostable. Made from sustainable plants and non-toxic resin, these satchels will decompose when exposed to enough moisture along with anything inside them.
Since 2019, we have sent over 180,000 compostable satchels.

Hemp & Eco-Viscose Bags
Every Bared shoe is individually packed in their own reusable drawstring bag, crafted from hemp and others from Eco-Viscose! Hemp is an all-natural, biodegradable fibre that uses 50% less water to produce than cotton, and creates 200-250% more fibre in the same volume of land.
Crafted from EcoVero certified by EU Ecolabel, Eco-Viscose is made from wood and pulp sourced from certified and controlled forests. This uses 50% less emissions and water than regular viscose.

Eco Tape
We're dedicated to reducing our plastic footprint, and strictly use landfill-biodegradable packing tape across the business.
An initiative to eliminate plastic for good, Australian-based company, Biogone manufactures packing tape that can be completely eaten away by natural microorganisms after disposal.

Shoe Boxes
All our shoeboxes double as bags! Crafted from FSC certified 100% recycled materials, they're perfect for storage (Marie Kondo style) and keeping your shoes in as-new condition.

Our Factories
Across our seven locations in Australia, Brazil, Portugal and China, all our operations are run on renewable energy. Plus! Our Melbourne warehouse is fitted with solar panels to cover our daily usage.

Micro-Pak Dri Clay® Kraft Anti-Mould Paks
You may notice a little brown packet in your shoe box. Crafted from high grade clay and packaged in FSC certified Kraft paper, this bundle of goodness keeps your shoes in tip-top condition by absorbing any moisture and preventing mould during the storage and shipping process.
Great for your shoes but even better for our planet, the Micro-Pak Dri Clay® Kraft Anti Mould Paks are 100% natural, plastic-free and biodegradable.

War on Waste
Waging our own war on waste, we're actively working towards reducing our coffee cup use and minimising our global footprint. From what started as a duo, to now a (growing!) team of 150 – we believe as a community we can make a difference!
An initiative to change habits and transform mindsets, we encourage a no-plastic environment and offer free daily coffee to all staff who bring their own reusable coffee cup.

​​FDRA Waste Management Program
We strive to do better for the planet and create greener and cleaner products. In 2022, we joined the FDRA Waste Management Program, an ongoing course that focuses on reducing our environmental impact by eliminating waste in the production and manufacturing phases. The program empowers our factories to identify, sort and recycle waste to keep it out of landfills and provides our suppliers with a new key tool that significantly increases environmental sustainability at the factory level.
While we understand this is only part of the solution, we are proud to partner with a program that shares our goal to strive for better and will continue to do so, until our company can be fully circular and with zero waste.

We Stand With Fashion Declares
An urgent shift in behaviour is needed. We stand with a bottom-up, industry-wide global movement of people in the fashion industry who want to learn, share best practices and take action on the climate, ecological and social crisis we face. We have joined a network of individuals to shape culture and behaviour beyond the industry itself.
That's why, we declare; "The Fashion industry needs an upgrade. It's time to put an end to the exploitation of people and the planet and work towards a fully circular and zero-waste industry. The Fashion Declares movement plays a crucial role in leading the way, we must unite and implement measurable action to stand a chance. The power is in our hands to make an impact."

Leather Working Group
PROMOTING RESPONSIBLE LEATHER MANUFACTURING WITH THE LEATHER WORKING GROUP
We're an official Leather Working Group (LWG) member and purchase 100% of our leathers from LWG-certified suppliers. Our leather products support responsible manufacturing via the Leather Working Group.We partnered with LWG in 2019 to reduce the environmental impact of leather production, and work with our suppliers to source leather from LWG-rated tanneries. These tanneries must adhere to a strict protocol, focusing on energy and water usage, waste management, the control of chemicals and more.
OUR SOURCING COMMITMENT:
In addition we ban the use of all exotic animal skins and any endangered species which appear on the Convention on International Trade in Endangered Species [CITES] or the International Union for Conservation of natures Red List of Threatened Specifies.
OUR SNEAKERS
The structural components you may not know about.
From October 2020, we're transforming our sneakers to be kinder to our planet. We're at the start of our journey and working hard to transform all our footwear for the better.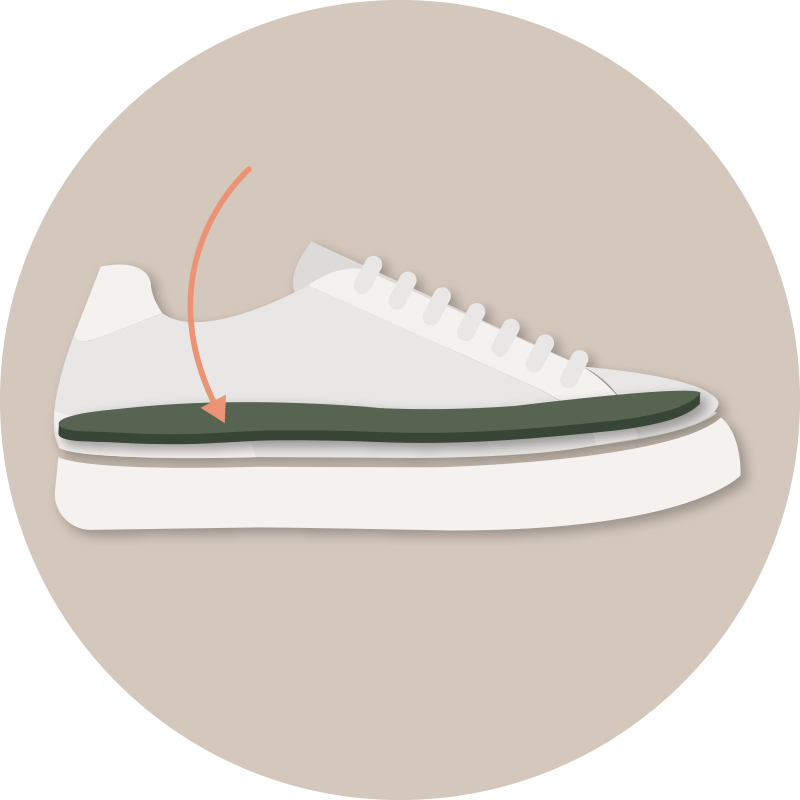 Insole Board
The barrier between footbed and sole used to provide shape. You'll find each insole board is entirely crafted from FSC Certified recycled paper.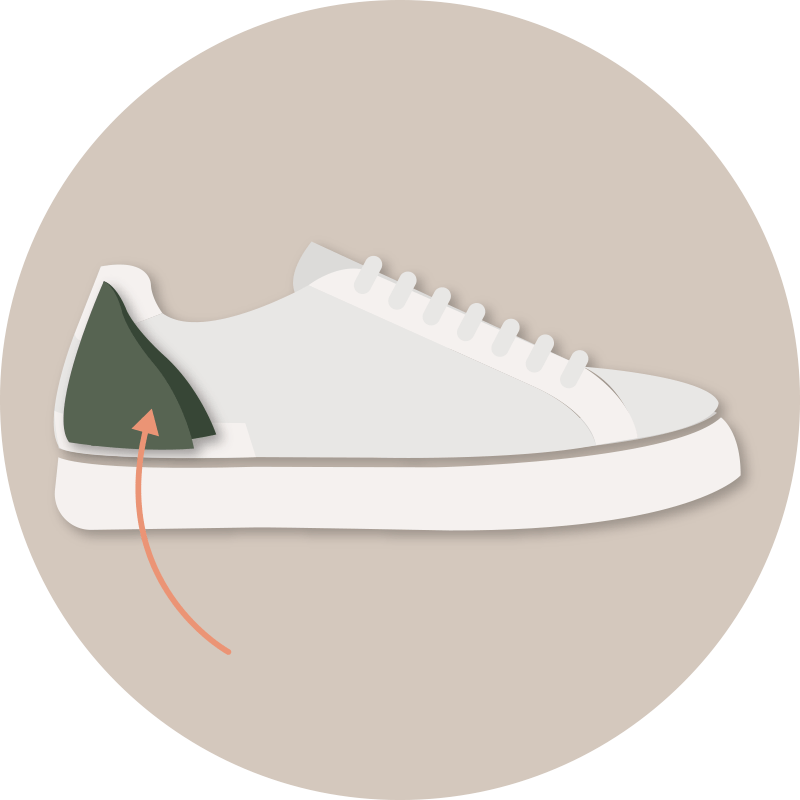 Heel Counter
Used to reinforce the heel cup of a shoe to provide structure and increase support. 95% of the heel counter is made from GRS Certified recycled plastic bottles.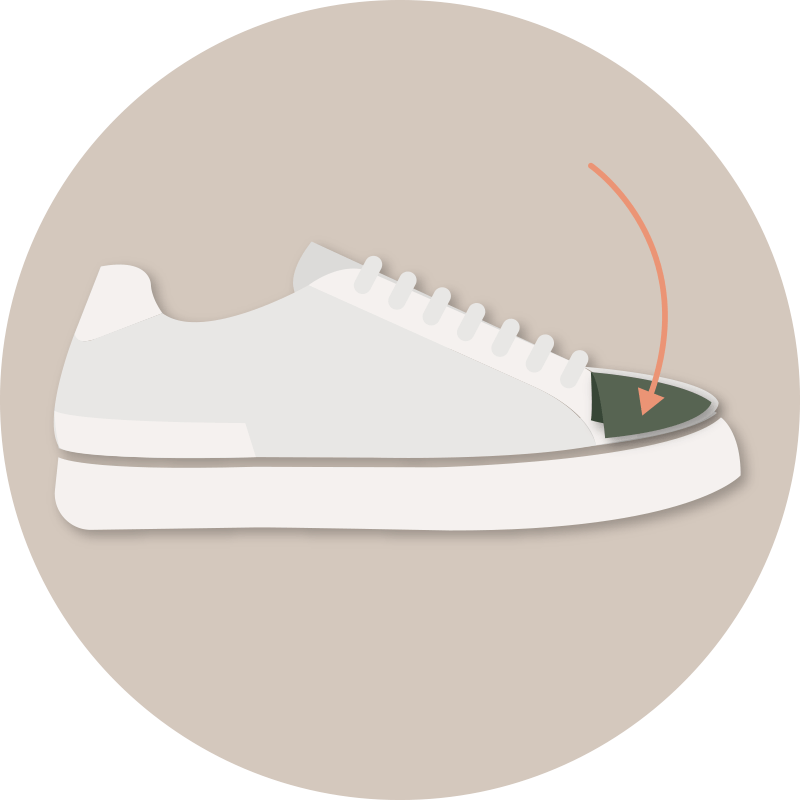 Toe Puff
Material inserted as a stiffener in the toe to provide shape and prevent collapsing. You'll find ours is made from 11% recycled Polymer from post industrial waste.
GET INVOLVED
Have extra footbeds, shoe boxes or bags and brochures from us on hand?

Bared Footwear Warehouse
15 Hamilton Street,
Oakleigh 3166, Australia
HAVE YOUR SAY
Have a suggestion? We'd love to hear from you!
Join us as we take steps towards a better future - we're constantly evolving, and forever learning. If you have any ideas or interesting eco-friendly components or materials shoot us an email at:

E. info@bared.com.au